The snow has begun to fall and winter weather is here!  Although the summers in Breckenridge are truly amazing, most agree that Breckenridge and Summit County come to life in the winter. It's hard to disagree with that assessment with four world-class ski areas all located in the same county!
As expected, with winter being so amazing and exciting there are a ton of winter events to check out throughout the season. Here is a breakdown of the major events happening this winter in Breckenridge:
Breckenridge Ski Resort Opening Day, 11/8/19 – Opening day is always exciting, but even more so this year as the base area at Peak 8 will now feature all of the new amenities offered by Building 3 of the Grand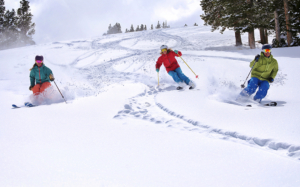 Colorado on Peak 8. Here's to hoping this season shapes up like last ski season!
The lighting of Breckenridge and Race of the Santas, 12/7/19 – Watch Breckenridge transform into a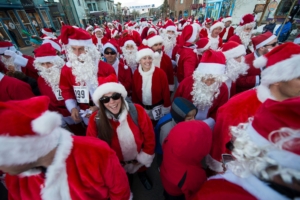 winter wonderland with a day of holiday festivities. Join in or cheer on hundreds of revelers dressed as Santa as they race down five blocks of historic Main Street. Spread holiday cheer by caroling in the Blue River Plaza and watch as Santa arrives via a horse-drawn carriage for the lighting of the town tree.
Ullr Fest, 12/11/19 – 12/15/19 – Yes, those dates are correct. New this year, Ullr Fest will be celebrated in December instead of January. During Ullr Fest in Breckenridge, don't be surprised to see horned Viking hats adorning the heads of skiers as more than 12,000 Ullr enthusiasts fill the streets for the Ullr Parade and crazy float participants ski off jumps on Main Street or glide along town in a hot tub. Join us to rejoice with Ullr, the Norse god of snow. Ullr Fest is a week-long winter festival with events for everyone, including the Ullr Parade on Main Street Thursday, December 12.
International Snow Sculpture Championships, 1/20/20 – 1/29/20 – Watch as 10-foot tall, 20-ton blocks of snow are transformed into amazing works of art using only hand tools. The incredible sculptures are created by teams from all over the world over the course of a week in January. The International Snow Sculpture Championship is the signature event in Breckenridge during the winter drawing thousands to witness the spectacle.